Wellness Exams and Vaccinations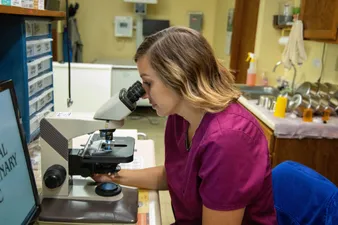 We offer wellness exams for pets of all ages. In order to keep your companion healthy, they are required to have yearly vaccinations. Our appointment times are from 9 a.m. to 11 a.m. and 2 p.m. to 4:30 p.m. Monday through Friday. Our office hours for Saturday is 8 a.m. to Noon.
Surgery
We perform a variety of surgeries, from routine spays and neuters to growth removals, de-claws, ear trims, cystotomies (bladder surgery), orthopedics, and even emergency surgeries including cesarean sections.
Dental Care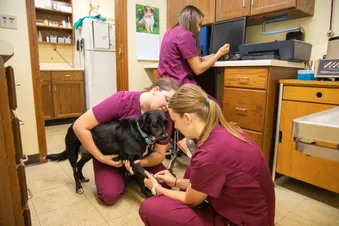 Dental care is just as important as routine wellness examinations and vaccines. Dental work should be performed yearly to keep your pets' mouths clean and healthy.
Emergency Care
If you have a small animal emergency, call the office number and follow the instructions on the voice recording.
Grooming
We have a full time groomer on staff with over 25 years of experience. We groom small to large dogs and also cats. Visit our groomers
Facebook page to see some of her grooms! https://www.facebook.com/Abby-Klest-Pet-Stylist-145814006033713/
Boarding
Separate dog room and cat room in the clinic to allow for a comfortable stay. There are also air conditioned runs for exercise during the day. We want to make this stay as stress free as possible for your pet. Although we provide Science Diet food during their stay, we encourage bringing their own food if they are a picky eater. You can also bring toys, blanket, or their own treats! Boarding prices for a dog runs anywhere from $14-18 a night. Boarding for a cat is $12 a night.
---
Other Services
Flea and Tick Prevention
Fleas and ticks are not only parasites to the body, but they also carry specific diseases that can cause illness to your pets. It is important to control flea and tick bites year round.
Heartworm testing/prevention
Heartworms are live worms that live in the heart and are transmitted by mosquitoes. Appropriate prevention is extremely important to ensure your loved one does not contract this disease.
Microchip
We offer $60 to microchip any size dog or cat.
In House laboratory diagnostics
We have a hematology and blood chemistry machine located in our clinic, which allows prompt laboratory results.
Digital Radiology
In house digital radiography offered for speedy diagnoses.
Fecal/urine analysis
In house analysis on both fecal material and urine. Fecal floats are performed to check for internal parasites that can affect your pet's health. Uranalysis can be performed for several reasons including checking for infections.