---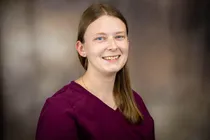 Brittany Campbell, Veterinary Technician
Brittany was born and raised in Hannibal, Missouri and graduated from Hannibal High School in 2014. She has always had an interested in animal care and went straight to technician school right after high school. She graduated from Hickey College- Veterinary Technician Institute in 2016. In her spare time, Brittany enjoys taking long walks with her Beagle Smokey.
---
Paul Muehring, Veterinary Assistant

Paul was born & raised in Hannibal, MO. He graduated from HLGU with a Biology degree in 2019 and is currently enrolled in an online program to become a certified Veterinary Technician. Paul enjoys spending time with his wife Emily, and loves doing anything outdoors.
---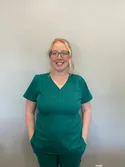 Courtney Reeves, Veterinary Technician

Courtney was born and raised in Quincy and had worked as a Veterinary Technician for 7 years before joining Hannibal Vet Clinic's team. She is passionate about providing the best care possible for her patients. She's a mom of two girls and enjoys the outdoors, music, traveling, and learning new things. She loves spending her free time with her kids, husband, and her fur children.
---
Abby Klest, Groomer
Abby Klest was born and raised in Kansas City, MO. She moved to Chicago when she was 17 and trained dogs for 4 years. She was the salon manager at Petco in Chicago and also in Quincy. She has been working with animals her whole life and, "Couldn't imagine doing anything else". In her spare time, she enjoys being with her family and her "dogos". Check out her Facebook page of all of her grooms! https://www.facebook.com/Abby-Klest-Pet-Stylist-145814006033713/